News Releases, 2007
Paintings by Maria Partridge
On Display in Legislative eXhibition Series February 26 – March 16
---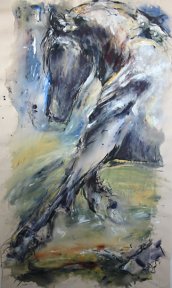 Caballo, Maria Partridge, 2006
Acrylic on canvas
Carson City, Nevada. The paintings of Reno artist Maria Partridge will be on display in the halls of state government February 26 – March 16 as part of the 12th Legislative eXhibition Series sponsored by the Nevada Arts Council. The space featuring the LXS – Legislative eXhibition artwork is located by the elevators on the main floor of the Legislative Building, 401 South Carson Street, and is open to the public, Monday through Friday, 8 a.m. to 5 p.m.
Maria Partridge currently uses images of the horse as a means to explore nature. Her paintings focus on the paradox of vulnerability and power that horses represent. Her work is about a poetic inquiry, exploring the essence of the horse and presenting that to the viewer so they will experience and share her empathy with these noble creatures.
"I have ridden horses since I was a child and have loved and respected them all of my life. Eight years ago I moved to Reno and was exposed to wild horses living in the surrounding area," said Partridge. "Since then I have become very concerned about these horses as they are caught between the mythology of their origins and the plight of survival due to lack of available land on which to graze."
Partridge's work not only captures the beauty of the animal but also seeks to show their essence. Shifting moods, physical reactions to the environment and each other are all reflected. As wild horses disappear from the landscape Maria shares her vision of these noble creatures in an effort to maintain a connection to our Western heritage.
Partridge has exhibited throughout the United States. Recent solo shows have included the Nevada Museum of Art and the Agora Gallery (SoHo) in New York City. She received her Masters of Arts degree from California State University, Sacramento in 2004, working with Joan Moment, Sarah Flohr and Robert Brady. Maria has been teaching art; drawing, painting, watercolor and graphic design at Truckee Meadows Community College since 2002. She was recently nominated for a Joan Mitchell Foundation Grant in New York.
The LXS 2007 artists were selected by a citizen committee comprised of Pat Fietta, co-director of Lyon County CourtHouse Gallery in Yerington, Suzanne Hackett-Morgan, co-director of the Goldwell Open Air Museum in Beatty and Nolan Preece, an art professor at Truckee Meadow Community College in Reno.
Celebrating their 40th anniversary, the Nevada Arts Council was founded in 1967 as a state agency charged with developing and promoting the arts in Nevada. Statewide programs include Artist Services, Arts in Education, Community Arts Development, Folklife and Grants. The Arts Council supports the work of Nevada artists, arts organizations and institutions and is funded by the Nevada State Legislature, the National Endowment for the Arts and other public and private sources.
The Nevada Arts Council is a division of the Nevada Department of Cultural Affairs. The Department serves Nevada's citizens and visitors through cultural and information management, preservation and promotion of cultural resources, and education. The Department also includes the Division of Museums and History, State Historic Preservation Office, State Library and Archives. For more information, visit the department's website at www.NevadaCulture.org.

FOR IMMEDIATE RELEASE
February 16, 2007
Contact: Fran Morrow 775-687-7106
Teresa Moiola (775) 687-8323